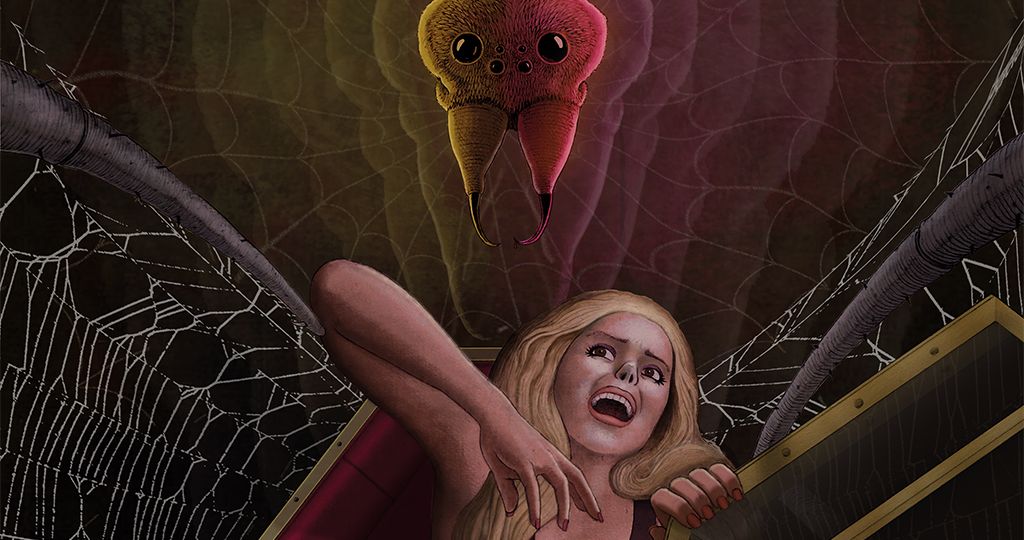 Step into the hauntingly beautiful abyss of dark synthwave as we delve into the enigmatic world of Finnish artist, Megahammer. With their latest album, "Seven Tales In Blood", Megahammer transcends the conventional boundaries of the genre, offering a tantalizingly dark and stylish soundscape that evokes the chilling allure of Italian gialli films.
Released on the 7th of July 2023 on the Finnish label Neo Helsinki Records, the album has already caused commotion in the synthwave scene.. On the album, Megahammer crafts an arresting narrative by interweaving musical tales of suspense and mystery
From the artist's creative process to their unique stylistic choices, we had the opportunity to sit down with Megahammer and delve deep into the making of this masterful synthwave saga. Buckle up, and journey with us as we explore the captivating tales lurking in the shadows of "Seven Tales In Blood". You don't want to miss what lies beneath the surface of this pulsating musical narrative.
Hi, thanks for taking the time to speak with us today. Can you tell us a little about yourself and your journey into synthwave music?
Greetings. I am a Lahti born and raised musician. The roots of synthwave, the 80's soundtrack music and early pioneers of electronic music have been there all my life. I don't remember the exact year when I decided to dabble with these types of aesthetics myself. But it felt natural, though. 
How would you describe your sound to someone who has never heard your music before?
Can you tell us about the musical artists or soundtracks that have influenced your work, especially with respect to the classic Italian gialli films?
Megahammer's discography is pretty diverse in the regard that every album is based on a different theme. But all-in-all, 80's inspired electronic music with nods to heavy metal and horror/exploitation film soundtracks. With this last work "Seven Tales in Blood" I was very inspired by Goblin and Dario Argento's Phenomena era. There are some hints to different movies here and there and one can hear Judas Priest influences also. 
What inspired you to create "Seven Tales In Blood"? What are the central themes of the album?
How did you approach the creation of this album, compared to your previous works? Was the process different in any way? Can you walk us through your creative process for one of the standout tracks on the album?
I was binge-watching Gialli and Italian horror more than I usually do, and that inspired this "comeback" album. The structure of this album can be viewed as a horror portmanteau film. The intro song is the opening that ties them all together, thus there are seven horror tales. This includes murder mysteries and Gialli, haunted houses, and zombies. My creative process didn't change in any noticeable way for this one, in electronic music one has to be the composer, producer and mixer at the same time. 
Your music has a very distinct style. Can you share with us some of the production techniques or instruments you employed to create such a unique atmosphere in "Seven Tales In Blood"?
The album has been described as 'dark' and 'ultra-stylish'. How did you achieve this? How did you ensure that the music truly embodied the essence of Italian gialli films and soundtracks?
Besides the usual synthwave pads, leads, drums and FX I incorporated some sounds that are found in these old Italian horror movies. Lots of stuff lifted straight from Morricone, Bruno Nicolai and Riz Ortolani for example. I used the harpsichord, dulcimer, glockenspiel and the last song "The Bloodstained Talon" features a guitar driven through fuzz, tremolo and a wah-wah pedal. Very dangerous. 
How has the reception of the album been so far? Are there any fan reactions that have particularly resonated with you? What can we expect from Megahammer in the future? Do you have any upcoming projects or collaborations you can tell us about?
The album is too fresh still, I haven't caught any reviews yet. I guess this album will be alienated from the mainstream synthwave scene, if there exists one nowadays. Overall comments have been good, and I've received compliments for more "mature" songwriting. The future of Megahammer is unknown at this point. I have many other musical endeavors to be revealed of which I can't discuss at this point. 
Do you have any advice for aspiring artists who are trying to make a break into the synthwave scene? Where can our readers find your music and support your work? Is there anything else you'd like to say to our readers?
I have to confess that I don't follow the scene anymore. But my advice for making music is the same as always, go with your instinct and gut feeling. Megahammer's music is available in every digital store and you can buy the previous album and Seven Tales in Blood as a vinyl. I hope you enjoy this new one as much as I enjoyed every part of the creating process!